Overview

The foot is made up of many small bones that sit perfectly together forming many joints. The big toe joint comprises of the first metatarsal and the proximal (close) phalanx of the toe. A bunion forms when base of the toe (first metatarsal) drifts away from the second metatarsal. The 1st metatarsal rotates and drops and so no longer sits in its correct alignment. The tip of the first toe then rotates and drifts inwards. Overtime, under the continuing stress of this altered position of the joint and the irritation that this causes, the joint can become inflamed.

Causes
By far the most common cause of bunions is the prolonged wearing of poorly fitting shoes, usually shoes with a narrow, pointed toe box that squeezes the toes into an unnatural position. Bunions also may be caused by arthritis or polio. Heredity often plays a role in bunion formation. But these causes account for only a small percentage of bunions. A study by the American Orthopaedic Foot and Ankle Society found that 88 percent of women in the U.S. wear shoes that are too small and 55 percent have bunions. Not surprisingly, bunions are nine times more common in women than men.

Symptoms
Just because you have a bunion does not mean you have to have pain. There are some people with very severe bunions and no pain and people with mild bunions and a lot of pain. Symptoms for a bunion may include pain on the inside of your foot at the big toe joint. Swelling on the inside of your foot at the big toe joint. Redness on the inside of your foot at the big toe joint. Numbness or burning in the big toe (hallux). Decreased motion at the big toe joint. Painful bursa (fluid-filled sac) on the inside of your foot at the big toe joint. Pain while wearing shoes, especially shoes too narrow or with high heels. Joint pain during activities. Other conditions which may appear with bunions include corns in between the big toe and second toe. Callous formation on the side or bottom of the big toe or big toe joint. Callous under the second toe joint. Pain in the second toe joint.

Diagnosis
A doctor can very often diagnose a bunion by looking at it. A foot x-ray can show an abnormal angle between the big toe and the foot. In some cases, arthritis may also be seen.

Non Surgical Treatment
Treatment falls into two broad categories, conservative and surgical. From a conservative standpoint, efforts are directed at correcting faulty foot mechanics with custom molded insoles and relief of symptoms. These include Custom Orthosis to stabilize the abnormal motion of the hind and fore foot. Shoe gear modification: Using shoes with larger toe boxed and more supple materials. Changes in activities. Try to avoid those things which cause symptoms. Anti-inflammatory medication for periodic relief this includes cortisone injections into the joint as well as oral medication.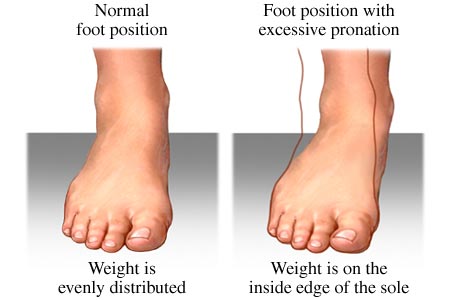 Surgical Treatment
Surgery for bunions usually isn't done unless you have already tried other treatment and it did not relieve your pain. Other treatment includes wearing shoes with lots of room for your toes and using pads and supports in your shoe for protection and comfort. Surgery may be right for you if your toe is too painful, if your bunion is very big, or if you can't easily do your daily activities. It's not clear how well bunion surgery works or which kind of surgery is best. How well the surgery works depends on how bad your bunion is, the type of surgery you have, and your surgeon's experience. Your expectations will play a big role in how you feel about the results of surgery. If you want surgery mainly to improve the way your foot looks, you may be disappointed.

Prevention
To minimize the chance of developing bunions, never force your feet into shoes that don?t fit. Choose a shoe that conforms to the shape of your foot. Opt for shoes with wider insteps, broad toes, and soft soles. Shoes that are short, tight, or sharply pointed should be avoided.